Fashion continues to roll quickly, the desire to always be up to date with contemporary goods provides opportunities and ideas for fashion industry players to always issue new concepts with the theme of Fast Fashion. In addition, the quantity of production is also a market demand. However, did you know that fashion is the second largest and dirtiest contributor to waste in the world? According to research conducted by the Ellen MacArthur Foundation, the fashion industry produces more damaging gas emissions than the shipping and aviation industries combined. The amount of waste and the activity of making clothes, pants, and shoes around the world is increasing, exacerbated by the increasing amount of clean water being wasted in order to keep up with fashion trends. Not all of the fashion industry's productions are sold out. Most of the remaining production will be disposed of until it can weigh many tons. Manufacturers of the fashion industry prefer to create new designs than recycle unused stock of goods. The recycling system is not an easy solution, this is because most fashion items are made from synthetic materials (Demy Durability). Meanwhile, synthetic materials are very difficult to recycle, and the production costs of this recycling are considered to be more expensive when compared to making new products.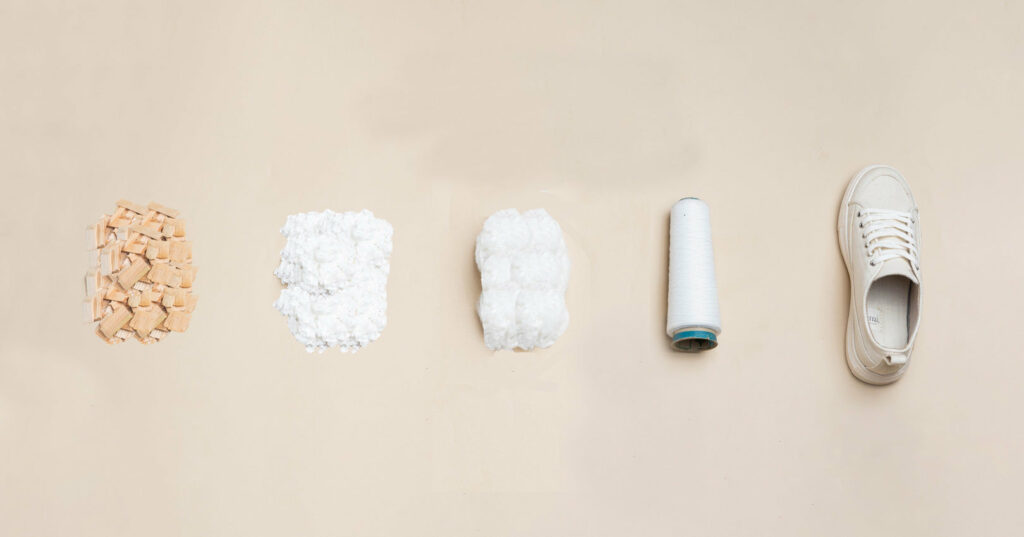 But lately, many fast fashion lovers have switched and changed their views to still care about social and environmental issues. They create fashionable products but use natural materials or better known as Eco Friendly. According to Air Quality Science, the term Eco Friendly/Green Products has been around since the 1980s. The beginning of its appearance in the United States where at that time the earth was being hit by the issue of Global Warming. There are several characteristics and conditions for Eco Friendly products, including; 1) Has a small amount of VOC (Volatile Organic Compounds), 2) Does not use toxic materials both during production and after the product is finished, 3) Must be durable and does not require much maintenance, 4) Can be recycled either after being a product or after being finished. once produced, 5) Made from materials derived from local Biodegradable.
Shoes are one of the complementary components in the fashion industry. Although classified as fashion accessories, shoes are considered to be able to make the appearance more optimal and look more elegant. In essence, shoes are used as a tool to protect our feet from harmful objects. But now shoes are part of people's lifestyle so that there are more and more brands that specialize in producing shoes. Shoes and leather have been inseparable since ancient Roman times, a strong, elastic, and durable material, making leather the main ingredient in shoe making. The leather used in shoes usually uses the skins of animals such as; cattle or similar, goats, sheep, pigs, reptiles such as snakes and crocodiles. In addition, various other materials are needed in the manufacture of shoes, and the most common are: rubber, plastics, textiles including Felt and Non-Woven, Woven, Wood.
The local shoe industry is slowly but steadily rising and attracting its existence. The presence of various local shoe brands cannot be separated from its huge market. One of the shoe brands from Indonesia, precisely located in the city of Bandung, named Pijakbumi, has participated in enlivening the shoe industry in the world by presenting different innovations. Pijakbumi has been established since 2016. The name Pijakbumi is inspired by Earthing which can be interpreted as direct contact between humans and the earth without using footwear. This is the philosophy and meaning of the naming Pijakbumi, which is believed to be a natural way to neutralize emotional states within oneself. This is in line with the Global Sustainable Development Goals (SDGs) action plan. With this natural concept, the Pijakbumi label quickly gained popularity.
These Pijakbumi shoes are unisex shoes that have a target market of millennials aged 18 to 34 years. The sneaker footwear design that has been launched is known as Atlas, where due to the uniqueness and characteristics of the product and its materials, the name Pijakbumi has been recognized by local and international markets (especially in Asia and Europe. The fiber used is Fiber Kenaf. Kenaf or those that have Latin name Hibiscus Cannabinus has been cultivated in Indonesia since 1986. Its cultivation areas are spread across Lampung, West Java, Central Java, East Java, and South Kalimantan. Almost all parts of this plant can be used as industrial processed materials such as carpets, textiles, handicrafts .
One proof of the success of Pijakbumi's shoe production was seen at the MICAM Milano international event which took place in Milan, Italy 20-23 September 2020. Where Pijakbumi owner Rowland Asfales was awarded the Emerging Designer award in the world's largest shoe/footwear special exhibition. Every year MICAM Milano is attended by 1400 companies from 30 countries around the world with an average traffic of 45000 visitors from 130 countries. In other words, Pijakbumi has penetrated 5 continents and brought the name of Indonesia to the world. Pijakbumi also produces apparel and bags from natural leather. Pijakbumi is specifically committed to creating footwear with good design and environmentally friendly production. Through the #ForBetterEarth campaign, Pijakbumi invites the public to adopt a responsible consumption pattern.
Change will never happen if only a few individuals make it. Change occurs when there is a collective will and action. So what are you waiting for, let's protect nature together without leaving our passion in the fashion world #ForBetterEarth.