The Primaduta Award is a form of appreciation and appreciation from the Indonesian government which is held annually by the Indonesian Ministry of Trade. This award is given to international importers who show their loyalty to continue to buy products from Indonesia and contribute actively to improving product quality, human resources and the economic development of people in Indonesia. In addition, Primaduta is awarded not only based on trade performance and increased import value, but also taking into account the inspirational stories and experiences of importers when doing business with Indonesian trading partners.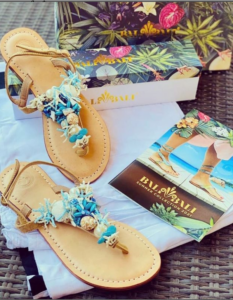 The Italian company BALIBALI Slr is one of the 25 winners of the 2021 Primaduta Award recipients. This company has been selected through a selection process for 303 importers from 50 countries. The award was given by the Trade Attache of the Indonesian Embassy in Rome, Silvi Sumanti to Fabio Guiseppe Lanzieri, owner of BALIBALI Slr, located at the Indonesian Embassy in Rome and witnessed by the Ambassador of the Republic of Indonesia to Rome, Mr. Muhammad Prakosa and attended by Wapppri Lefianna Ferdinandus, Coordinator of Economic Functions and ITPC Milan. BALIBALI's victory at the Primaduta Award was also announced at the opening of the 36th Trade Expo Indonesia Digital Edition on October 21, 2021. Ambassador Muhammad Prakosa expressed his appreciation for the contribution of BALIBALI Srl in promoting and increasing exports of Indonesian products in Italy and expressed hope for cooperation with business people Indonesia, especially micro, small and medium enterprises (MSMEs) can continue to be improved.
The owner of BALIBALI Slr, Fabio Guiseppe Lanzieri said that he decided to start importing Balinese sandals, rattan bags, belts and sarongs to Italy in 2003 under the company name Bali Blue. Over the years the company has helped improve the quality of materials and packaging of various products with Indonesian craftsmen. Lanzieri said that he was very impressed with the quality of the product, the agility and thoroughness of making sandals in Bali. To be more connected with Italian designs, production from Indonesia, especially Bali and Java, as well as expanding the market for Indonesian products in Italy and Europe, the company changed its name to BALIBALI. The combination of Italian design with quality products made in Bali is the "main weapon" for BALIBALI to penetrate the world market. Balinese craftsmen are able to create unique pieces while maintaining quality and homogeneity in each product requested. In addition, BALIBALI has switched from plastic raw materials to leather.
Several processes are carried out by BALIBALI Slr in its strategy of placing products in the upscale market, namely by changing the packaging with flower boxes to further beautify the products being sold. In addition, in an effort to promote Indonesian products, BALIBALI has marketed its products not only in Italy but also in Europe through a network of agents and participated in trade shows such as MOMAD Madrid, WHOSNEXT Paris, MICAM and WHITESHOES Milan. The new collection of BALIBALI SS22, consists of 26 models who want to create various styles, from flat flip-flops with tops decorated with beads as accessories that are the hallmark of BALIBALI to the use of technology with gold or silver metal shells previously equipped with natural shell. In addition there is a new technique also appears in the sandals decorated with pearls and metal shells.
BALIBALI has been promoting its products through websites and e-commerce as well as through social media Instagram and Facebook with the account name BALIBALI in the last 3 years. Sales of BALIBALI products continue to grow every year. The biggest challenges facing today for the Covid-19 issue, are the exponentially rising shipping costs, quite long production time for handmade products and limited supply side. However, Fabio Guiseppe Lanzieri is optimistic that the market opportunity for importing products from Indonesia is still open. This is because Indonesia has a strong potential in all handmade products. Along with the recovery of the Italian economy as well as the world, BALIBALI is expanding sales in the Russian and American Markets through targeted social advertising campaigns, a step taken by BALIBALI to improve the B2C sector and through the BALIBALI website that sells e-commerce directly to customers.