Many Indonesian designers have succeeded in making the nation proud and achieving success with achievements and a global market. They have received various awards from various organizers. Almost all of these products and designs reference Indonesian culture. This is because young designers want to appreciate their love for Indonesia in the hope of introducing Indonesia to the world.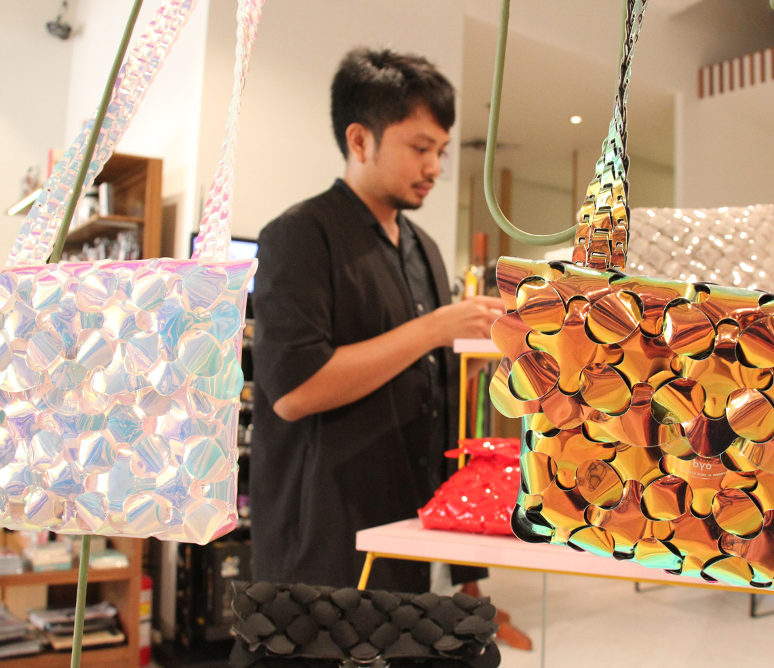 Tommy Ambiyo Tedji shows his soul expression through the bag. In 2010 by carrying the brand name "BYO" which is a combination of fashion and fiction, Tommy accentuated his uniqueness and created something new by playing with geometry, such as mosaics. BYO is taken from Tommy's middle name, Ambiyo, which can also mean life, a living organism. Dare to break through common ideas by experimenting, giving birth to a bag made of tyvek (a sheet material like paper, not easily torn). Tommy won the JFW Fashion Entrepreneur Award at Jakarta Fashion Week 2017. In addition, Tommy also received awards as The Most Promising Accessories Designer (Cleo Fashion Awards-Jakarta Fashion Week 2016) and Good Design Indonesia 2017. Brand BYO joined in Indonesia Fashion Forward had the opportunity to exhibit products at AQ Market, Paris Fashion Week 2016, and participate in Los Angeles Fashion Week 2017, collection Spring-Summer 2018. Characteristic of using PVC material with a unique color play and sometimes has an translucent that illustrates his interest in science fiction.impression quirky and the soft and chewy texture make the variety of his bags hunted by fans of unconventional accessories.
Amelia Rachim is a designer from Indonesia whose name is flying internationally thanks to her work in jewelry design and won several awards in Europe, the US and Canada. This woman born in 1985 managed to become the youngest winner in a design competition titled "Design Time" which was held in September 2011 by BREIL, an icon of a well-known watch and jewelry brand in Italy, which eliminated 3,037 designers from 96 countries.
Amelia Rachim's work is unique with the concept of combining an elegant European style with Indonesian icons. For example, the Emerald Emerald Ring that won first place in the Enchanted Emerald Jewellry Design Challenge (2013) was held by a well-known Canadian jewelry brand, Mejuri. For the design of the Garuda Collection, which is based on the icon of the garuda bird, it has also won a Silver Award at the A' Design Award (2015) in Italy.
The ring was used by Hollywood artist, Emmy Award winner Kristin Chenoweth (Glee series actor) while appearing on the Oprah TV Show. Indonesian singer, Anggun. C Sasmi, also uses his work when performing at the Concerto di Natale or the Christmas Concert in Italy. The Emerald Emerald Ring has become a fashion and has been featured in a number of world fashion magazines such as Vogue, Elle, and many more. The winner of a Master Degree in Jewelry Engineering from Politecnico University in Torino (POLITO) is now living in Italy and working with well-known jewelry companies including AMJ Design Sas., Novarank Srl., Manca Gioielli Snc., Marakò Gioiello Italiano Srl.
Hendro Hadinatais also a young designer from Indonesia who was selected to participate in the Salone Satellite, which is a furniture and interior event where the Salone del Mobile exhibition is specifically for young designers under 35 years old. The product exhibited by Hendro Hadinata is the 'Eve Light', which is an LED lamp made of silicone wrapped in metal/copper wicker made by artisans from Sumba. This light is removable and can be used to support outdoor activities, this product is considered very useful, especially for children and people with wheelchairs. Copper material has been scientifically believed to help prevent the transmission of viruses. Hendro is the founder of Studio Hendro Hadinata which has a vision with a simple and efficient design but can help with existing problems and needs. So it can be seen that cultural references can be the answer to current needs.
With competitions and exhibitions held, it can be a motivation for world designers to promote their culture and country in unlimited creations. This event is a potential to build relationships between the business world and young designers in order to prepare themselves to enter the international market.
For more information about fashion products from Indonesia, please contact info@itpcmilan.it